1 July 2019
From research and foreign policy in Oslo to UCPH Political Science
NEW HEAD OF DEPARTMENT OF POLITICAL SCIENCE
With 25 years of experience in research and as a political advisor, Norwegian senior researcher Nina Græger is relocating to Copenhagen to head the Department of Political Science at the University of Copenhagen from 16 September 2019.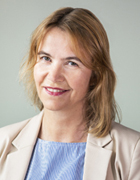 It is a highly competent and all-round researcher, who will take over as Head of the Department of Political Science this autumn. Nina Græger comes from a position as senior researcher at the think tank, Norwegian Institute of International Affairs (NUPI), where she has also led one of the institute's departments for four years.
Nina Græger has collaborated with political stakeholders in much of her research. She has participated in a series of commission work and has been advisor to the former Norwegian Minister of Energy (and later Prime Minister and Secretary General in NATO), Jens Stoltenberg. 
In addition, Græger has experience from large projects in basic research at both national and international levels. She is currently part of a research group analysing the role of diplomacy in the world order of today, and her research has primarily focused on Norwegian and European foreign policy along with security and defence policy, integration policy and European institutions.
- With Nina Græger we will have a head of department, who herself has done research at a high level, and has hands-on management experience. She knows how to cooperate with companies and organisations that hire graduates from the Department of Political Science. In her own research she has shown how to solve problems in society, and is the right person to ensure that our graduates will continue to be problem-solvers who can tackle the big societal problems, says Dean at the Faculty of Social Sciences, Mikkel Vedby Rasmussen.
Researcher, advisor and commentator
Nina Græger graduated from the Department of Political Science at University of Oslo in 1994, and started her career at the Peace Research Institute Oslo (PRIO).  In 2007, she defended her PhD thesis on the internationalisation of the Norwegian Defence from 1990-2005, and she has published her research in journals like Cambridge Review of International Affairs and Journal of Peace Research.
She is also a popular commentator in Norwegian media on topics such as defence and foreign policy, NATO, transatlantic connections and Nordic and European security and defence policies. Dean Mikkel Vedby Rasmussen is also delighted with Nina Græger's international outlook:
- The Department of Political Science at UCPH belongs in the very top of political science departments across Europe, and I am very pleased that Nina Græger can visualise the department's role in an European perspective and use her experience from Norway and the rest of the world to further improve our high level in research and education, says Dean Mikkel Vedby Rasmussen.
Topics
Contact
Dean Mikkel Vedby Rasmussen
Faculty of Social Sciences
Phone: +45 21 18 10 48
E-mail: dekan@samf.ku.dk
Journalist Janni Brixen
Faculty of Social Sciences
About Nina Græger
2006-now: Senior Researcher, Norwegian Institute of International Affairs (NUPI)
2013-2017: Associate Professor in International Relations, The Norwegian University of Life Sciences
2012-2013: Head of the research group, Security and Defence, Norwegian Institute of International Affairs (NUPI)
2008-2012: Head of Department for International Politics, Norwegian Institute of International Affairs (NUPI)
2007: PhD (Doctor Rerum Politicarum) on the internationalisation of the Norwegian Defence
1998-2006: Researcher, Norwegian Institute of International Affairs (NUPI)
1994-1995 and 1997-1998: Researcher, The International Peace Research Institute, Oslo (PRIO)
1994: Graduate from Political Science, University of Oslo