27 April 2023
Charcoal is a focal point in conflicts over East Africa's green transition
Green transition
With a grant of DKK 10.4 million from Danida, Ole Wæver will study conflicts and conflict resolution during East African countries' transition from charcoal to more sustainable energy. Global climate policy is driven by the rich countries, but vulnerable communities in the South are affected - and success requires their active involvement.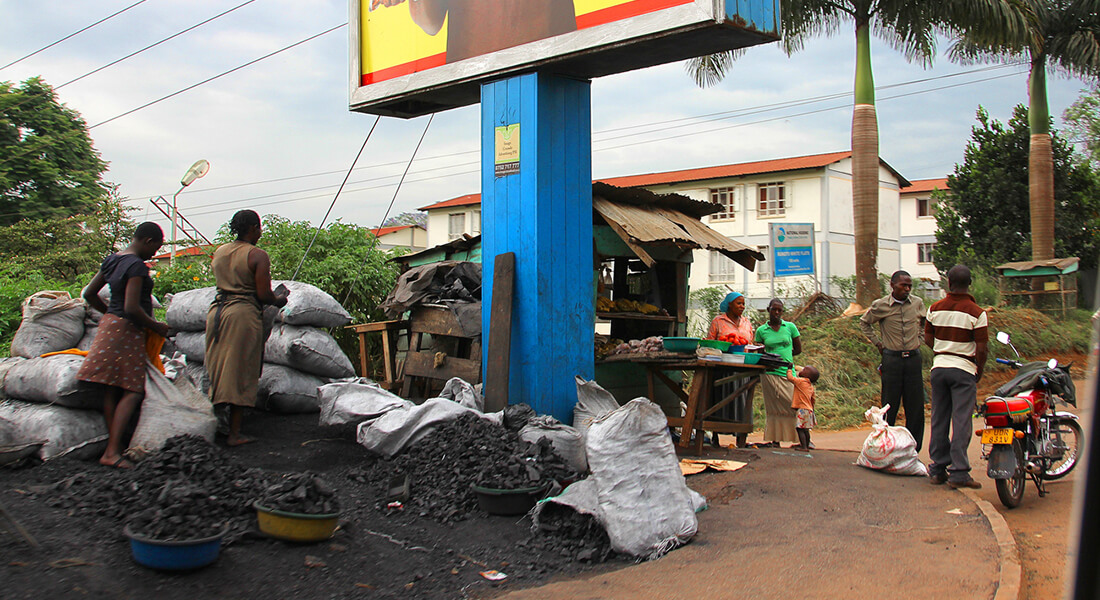 In Uganda and Tanzania, charcoal accounts for 90 % of energy consumption. Technically, it is a renewable resource - not fossil fuels - but in practice it is completely unsustainable.
"In both countries, population growth and development targets are driving up charcoal consumption, despite official policies to the contrary. This leads to extensive deforestation and CO2 emissions," says Ole Wæver, Professor at the Department of Political Science.
He is heading a forthcoming research project on the social conflicts that threaten when East African countries attempt to switch to other energy sources or 'green charcoal'. Danida has chosen to support this project with DKK 10.4 million.
Charcoal is embedded in the culture
In the project, called "Charcoal Conflict in Climate Change's Decarbonisation Dilemmas: Knots of Livelihood, Nutrition, Communities, Gender, Migration & Energy in East Africa", the researchers will analyse charcoal's embeddedness in cooking, health, gender, youth, migration, identity, and group and corruption dynamics.
"The project will also contribute to capacity building in Uganda and Tanzania by fostering interdisciplinary collaborations on climate research. We will do this by bringing together experts in social conflicts, local communities, law, politics and technology," says Ole Wæver.
Currently, global climate agendas are putting pressure on countries such as Uganda and Tanzania. According to Ole Wæver, this increases the risk that sudden changes, dictated from above, are incompatible with the complex dynamics of charcoal and its role in the lives of East Africans.
"Global climate policy is predominantly shaped in the global North - especially in an interplay between the US, EU and China and private actors – but the price is paid by the weakest communities in the South who have not themselves contributed to creating our climate crisis," Ole Wæver points out.
When climate policy creates conflict
In the global North, where most CO2 is emitted, the focus is on reducing emissions. This agenda is now also being pushed in the Global South.
"Donors and NGOs are colouring all programmes green. Carbon offsetting, which we are increasingly being sold, is typically something to do with forests in poor countries. When charcoal is so closely woven into all aspects of life, everyday life, the family, the local community and the informal economy, heavy-handed climate policy 'from the North' can all too easily trigger distress and conflict - and this undermines climate action," explains Ole Wæver.
Conflict research has so far mostly looked at how climate change itself could lead to conflict, but there is an emerging interest in conflicts created by climate policy.
'Our upcoming project will be part of this breakthrough. It will be crucial knowledge when we are to protect vulnerable communities and make climate policy sustainable,' emphasises Ole Wæver.
Also involved in the research project are researchers from Makerere University in Uganda, who are anchored in law, and researchers from St. Augustine University of Tanzania, who will contribute expertise in sociology, conflict research, gender and health. Ole Wæver and his colleagues at CRIC are currently finalising a collaborative project on militarisation in Uganda, developed with Sylvie Namwase, a former postdoc at the University of Copenhagen.
"I am very grateful to have the opportunity to work with talented researchers in Uganda and Tanzania in the endeavour to understand what is at stake in the local communities where climate policy is having a profound impact on people's lives and how people there can contribute," Ole Wæver concludes.
Contact
Ole Wæver
Professor and Director of CRIC, Department of Political Science
Mail: ow@ifs.ku.dk 
Phone: +45 35 32 34 31
Simon Knokgaard Halskov
Press and communications officer
Mail: sih@samf.ku.dk 
Phone: +45 93 56 53 29
Topics