60 years of anthropology of health research
Anthropologists pave the way for a new way of looking at disease and treatment
Today, more people than ever before have to live with a chronic illness. The Danish Health Authority estimates that about one-third of Denmark's population suffers from a major disease like diabetes, heart disease, cancer, or some other condition that in the past would have drastically shortened their life.
Nowadays, it is perfectly natural to talk about how serious diseases affect a patient's social and emotional life, and we know that a patient's psychological state and how they handle their illness can play a crucial role in how successful their medical treatment will be.
But a mere 50 years ago, doctors and researchers were only concerned with the physical condition of the patient and with treating the disease itself. They weren't particularly interested in how the patient 'was', or in their quality of life, social situation or other personal circumstances that might affect the course of the disease and the efficacy of the treatment.
Since the 1950s, medical anthropology has helped to change this view. Anthropologists have systematically carried out research into living with serious illnesses, and have documented how a disease affects both the individual patient and their family, friends and colleagues. The anthropological studies investigated how certain diseases affect a patient's day-to-day life, how patients and their families and friends cope with the challenges that such diseases present, and how this affects the patient's medical condition.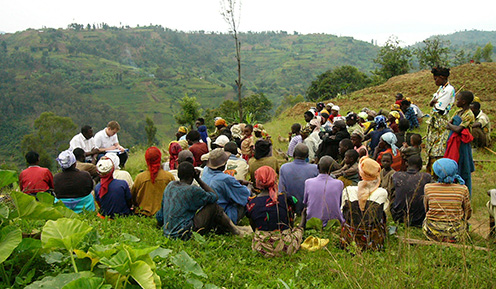 Today, there is a lot more focus on the quality of life chronically ill people have, and improving quality of life for the sick (and for their families) now has a high priority when formulating health policies. Through research projects and training students specialising in medical anthropology, anthropologists at the University of Copenhagen have contributed greatly to this change in health policy.
Over the past 40 years, anthropologists at the University have worked together with ministries, hospitals, patient associations and pharmaceutical companies, and anthropologists can now be found working in health care institutions, local authorities, NGOs and research centres. The unique expertise that anthropologists can offer about living with chronic illnesses has now become a much sought-after product both in Denmark and around the world.
Together with researchers from psychology, medical sociology and pedagogy, anthropologists' research has helped to ensure that patients' quality of life now enjoys high priority on the political health agenda.
Anthropology of Health at the University of Copenhagen
1970s
Susan Whyte and Niels Fock start researching into and teaching anthropology of health – related both to global health and health in Denmark.
1982-1983
UCPH anthropologists participate in the WHO-Baseline survey into mental health in Tanzania.
1984-1986
The Danish Cancer Society invites anthropologists to conduct the first study of how cancer patients' treatment affects them on a day-to-day level.
1994-2006
Ongoing joint research project in Uganda together with the Council for Development Research, Ministry of Foreign Affairs.
2015-2020
Focus on chronic patients in 'The Vitality of Disease - Quality of Life in The Making', Starting Grant from the European Research Council.
2003-2018
More than 200 nurses, psychologists and other health care professionals graduate from the Master of Anthropology of Health programme (run in collaboration with Aarhus University).
1982-2018

Anthropology researchers at the University of Copenhagen are awarded more than DKK 100 million in research grants from the EU, DANIDA, the Danish Council for Independent Research and private foundations

More than 250 books and research articles published in peer-reviewed scientific journals
Examples of anthropology of health research projects:
The knowledge gained from these anthropologists' research about the importance of patients' quality of life is clearly reflected in a range of health initiatives. See examples below (in Danish).
NEW FOCUS:
The pharmaceutical company LEO Pharma changed its strategy to focus far more on patients' day-to-day experience of living with a disease and on the way they use their prescribed drugs.

NAVIGATOR:
A patient-support programme with specially trained nurses, designed to enhance patient self-empowerment and support the individual patient in managing their illness as optimally as possible and in navigating the many healthcare services on offer.

'LIVING-WITH' GUIDES:
Local and regional authorities develop patient courses aimed at helping patients live with their illness and expanding their social networks by meeting others who are in a similar situation..

PATIENTS' EXPERIENCES:
Patient associations develop guides with advice on how patients and caregivers can manage their everyday life with a disease and adjust to life within the limitations of the disease. The guides are based on the experience of patients and their families.

Anthropologists at the University of Copenhagen are currently engaged in joint projects with:
Rigshospitalet, Copenhagen
Hvidovre Hospital
The Danish Heart Association Foundation
Steno Diabetes Center
Vordingborg Local Authority
DANIDA
CITIC-Xiangya Reproductive and Genetic Hospital, Hunan, Kina
Research institutes and health authorities in Uganda
Research institutes and health authorities in Vietnam
Anthropology of health researchers from the Department of Anthropology
Professor Susan Whyte
Professor Tine Gammeltoft
Associate Professor Hanne Mogensen
Associate Professor Vibeke Steffen
Associate Professor Helle Samuelsen
Professor with special responsibilities Ayo Wahlberg